Sustainability in Greatview's production and supply chain recognised at 2021 Sino-Swiss Business Awards
Greatview's continued efforts to prioritise environmental sustainability in its production processes and across its supply chain were recognised at the prestigious 2021 Sino-Swiss Business Awards (SSBA) as we were a nominee in the final round of the "Business Award for Sustainable Production and Supply Chain".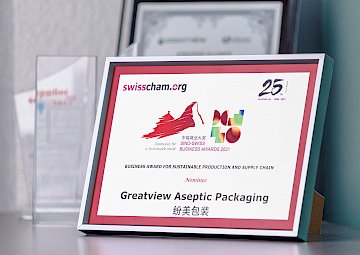 We believe that the entire food and beverage industry has a responsibility to both set and meet ambitious sustainability targets in order to safeguard the future of our planet. We work hard to support each customer on its sustainability journey.
Greatview aims to ensure that liquid beverage producers can trust their packaging material supply chain, projecting a responsible image to expectant consumers. Towards this goal, we keenly follow a strategy of sourcing increasing proportions of raw materials from certified responsible sources. We also establish long-term relationships with raw material suppliers and logistics firms who share our commitment to environmental protection whilst actively participating in industry-wide initiatives that promote sustainable practices across our supply chain.
Alongside our efforts in the supply chain, in order to support our customers in promoting the sustainable nature of their product's packaging, Greatview continually works to implement the latest technological innovations and lean production processes in our factories. Reducing our ecological footprint is a key priority for Greatview and we have introduced measures such as a free cooling system, solar panels, and the purchase of certified green electricity in our German production plant.
We are committed to investment in environmental protection and by introducing eco-friendly products such as paper straws and Greatview® Planet, which incorporates bio-attributed polymers under a mass-balance approach, Greatview has become a pioneer in providing a sustainable product portfolio that allows liquid beverage producers to embrace sustainability in their packaging.
In order to reduce the environmental impact of our products after consumption, we proudly work with industry partners in our efforts to increase the recycling rate of our packaging materials. We participate in groups such as the European Brand Association's Holy Grail 2.0 initiative and the Committee of Paper-based Beverage Composite Packaging Recycling in China, which aim to improve the ease of recycling paper-based aseptic packaging for consumers.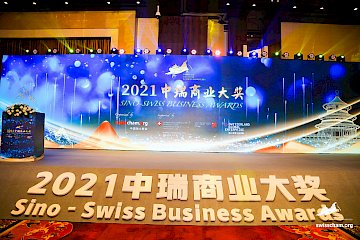 Jointly organised in by the Swiss Chamber of Commerce in China and the Swiss Embassy in Beijing, the Swiss Centre for Science and Technology and Swiss Trade and Investment, the fifth edition of the SSBA celebrated the commitment of Swiss and Chinese companies to sustainable business practices. Greatview is grateful to the organisers for staging this important event and looks forward to working alongside Swiss and Chinese partners to build a more sustainable future for our planet.