TopFruit Juice brings innovative QR code campaign to its consumers
Game-changing packaging supplier Greatview's innovative Smart Packaging solution has provided a profitable upgrade for Oman's most popular juice brand TopFruit.
In an increasingly diversified and competitive market, food and beverage brands require ever more innovative methods to differentiate their products from others. Packaging and packaging-generated consumer-engaging opportunities are a key tool in a brand's drive to stay competitive across both sales volume and brand loyalty.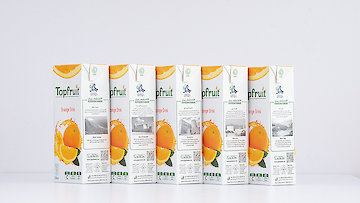 OmanRefCo was looking for a creative packaging and digital marketing campaign for its "TopFruit" juice brand to bring more added-value to its consumers and diversity to its product range. In response, Greatview Packaging implemented Greatview Smart Packaging, a variable printing and digitalisation solution which makes it possible to print unique content such as images, text or QR codes onto cartons. From now on, the brand's existing packaging was upgraded from "just a container" into a platform for a digital marketing campaign.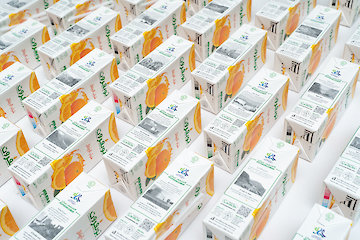 Each juice carton was printed with one Omani landmark image, as well as unique, smartphone-readable QR codes. Visually, the various landmarks printed onto the cartons present the beauty and culture of Oman to both domestic and international consumers, positioning the brand as a 'cultural promotion ambassador' while also improving shelf advantage among regular replicate-printed cartons.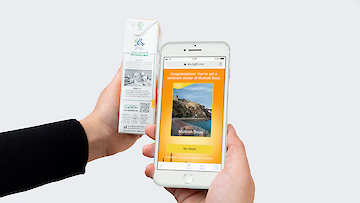 A digital 'Scan-and-Win' campaign was designed for the unique QR codes, so when consumers scan the QR codes using the camera function on a smartphone, they can automatically collect different virtual landmark stickers in their account centre and win prizes.
The Scan-and-Win competition was designed to establish two-way communication between TopFruit and its consumers, engaging the consumers in an entertaining and interactive way while the brand gets a chance to draw the consumers' persona based on their participation behaviour thanks to the unique QR code. The transparency and simplicity of this brand-to-consumer competition fueled consumers' desire to participate.
The campaign completely changed Omani domestic consumer's understanding of the link between packaging and marketing campaigns. The new packaging appearance and the interactive marketing campaign has become a hot topic among consumers across social media platforms. Notably, during the first two weeks of the campaign, TopFruit has gained more than 148,000 post views and more than 26,000 social media engagements across its campaign-related posts on Instagram and YouTube.
What's more, significant amounts of individual-consumer-generated content have been posted with the campaign's hashtags across social media platforms, demonstrating the power of this refreshing on-pack marketing campaign to increase consumers' engagement with brands.
Selecting Greatview Smart Packaging allowed TopFruit to meet both its social and environmental responsibilities and establish a socially conscious brand image to the public.
Read the article originally featured in FOODBEV MEDIA: https://www.foodbev.com/news/greatview-smart-packaging-brings-interactive-digital-campaign-to-life/